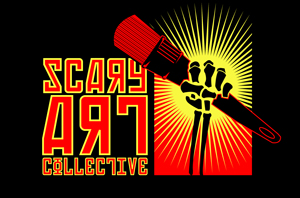 Who is the collective?
HISTORY
In mid-2006, the phrase "Scary Art" was first applied to the unique paintings created by the art machine that is Nicolas Caesar, our illustrious founder.
Shortly thereafter, the "Scary Art Collective" was birthed (it was a breech) when Scary Art fan, musician and art lover, Chip Conrad invited Nicolas and a small group of his artist/friends to exhibit their unusual works at his equally unique gym, Body Tribe in midtown Sacramento, CA.