Frequently Asked Questions
"You do this for a living?"
Yes, I'm a fulltime artist
"Do you sell your work?"
Yes, I've sold over 3,000 pieces
"Who are your influences?"
Artistic influences include but aren't limited to: Parsonovich, Edward Gorey, John Kricfalusi, Jim Smith, Alex Toth, I, Braineater, Gahan Wilson, Ralph Steadman, Screamin' Mad George, Basquiat, Duck Edwing, Charles Addams
"Do you do custom work?"
I encourage interested parties to consider commissioning pieces to their exact specifications. It is very exciting to have artwork made by request. I find that collectors enjoy participating in the creative process by providing input on what they would like to own. If you are interested in purchasing or commissioning works please contact me.
"How Long Does it take you to make a painting?"
1 Day turnaround time.
"Where do you get your ideas?"
Creature Features, Horror Comics, Weird Cartoons, Monster Toys and vintage advertising.
'What's your opinion on art critics?"
Critics are useless, voluntarily toxic, and in a whole forgotten. Like vampires, if you allow them in to your head - you have yourself to blame. Too many talented people I know are slaves to the hook of never being good enough. You'll never be good at anything if you let parasites tower above you. Do the best with what you got and keep going. You deserve your vision.
"Can I get a tattoo of your art?"
Sure, just email me a picture of it!
My Mom asked me again today. "So what type of job does Nik have?" He's an Artist. He is one of the few who actually sells his work. Maybe she will remember. Anyway, I Really admire his drive and determination. I am also so glad he is my Son in Law.
- Joe Cuen Beltran Rose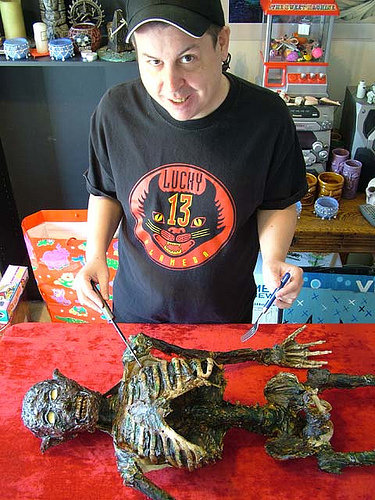 "What do you use?"
I use sponge brushes, acrylic paint, and sharpie poster paint pens.
Here are pix of the process: