Mosquito and Spider Web Comic
THIS IS A FINE ART SITE. BY CLICKING ENTER, YOU ARE AGREEING AND AFFIRMING THAT:
YOU RECOGNIZE THAT ALL MATERIALS CONTAINED IN THIS WEB SITE ARE COPYRIGHTED; AND YOU WILL NOT COPY,
PUBLISH, OR DISTRIBUTE ANY OF THE CONTENTS OF THIS SITE IN ANY MEDIA WITHOUT CONSENT
All content copyright the contributing artists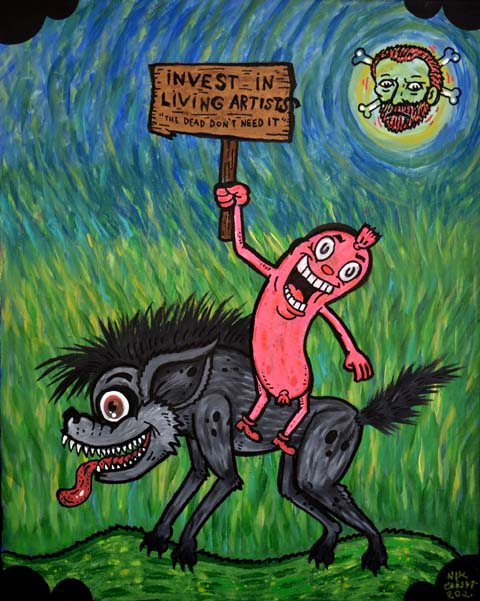 1-13-2022
Hey boil and ghouls, I've been a professional artist since 2006, I made it my mission to make art easily available to all who may have been alienated or out priced by high end galleries and artists. My illustration rates are sliding scale from $20-$100 and my paintings price out at the high end of $115. I've now sold over 4,000 pieces worldwide and counting.
Maybe it's the punk rock upbringing or my disgust of the wealth gap, but I'm here for your weird ideas. I want to empower you. Inspire you. Most of all I want to make art obtainable regardless of your income. Leveling the playing field. Whether you're a rock star, celebrity, or sell TVs at Best Buy, all are welcome. Everyone wins.
I often get "Your work is FUN!", shouldn't life be fun? You'd be surprised how much freedom you're given by not taking the Art World seriously. Seriously, when you're not hindered by stuffy old turd sharpeners, it's a great job! No masters, only compete with yourself.
I started a Twitch in April of 2021. Sometimes I'll do live art on it, sometimes I'll show weird movies. Come and hang out.
- Nik